KING COUNTY REAL ESTATE
Schools, Places, Stats, Homes For Sale And More
KING COUNTY IS WASHINGTON'S LARGEST COUNTY AND HOME TO THE EMERALD CITY
King County is the only jurisdiction in the world named for Dr. Martin Luther King Jr.
It borders Snohomish County on the North, the Cascade Mountains on the East, the Puget Sound on the West and Pierce County on the South.
It covers 2,131 square miles and houses 30 cities and towns including; Seattle, Tacoma, Bellevue, Kirkland, Redmond, Renton and Kent.
As of 2018 the estimated population was 2,223,193 residents.
KING COUNTY FEATURED COMMUNITIES
---
---
---
---
---
---
MARKET REPORT
Every quarter we publish a detailed Seattle Housing Market Report. With insights, opinions, stats, charts and graphs. VIEW MARKET STATS
KING COUNTY HOMES FOR SALE
View a complete list of King County WA Homes For Sale
View All Listings
SEATTLE REAL ESTATE
Learn more about the Crown Jewel of King County including; Market Stats, Schools, Parks, Homes For Sale, Neighborhoods and more.
About Seattle
KING COUNTY EVENTS
Check out fun and interesting events that take place in King County.
County Events
---
353 miles of wastewater pipes
2,369 stormwater control facilities
4 sewer treatment plants
920 acres of landfill
700 low impact development sites
8 solid waste transfer stations
500 flood facilities totalling 119 miles
28,000 acres of parks
200 parks
215 miles of trails
38 inches of annual rain fall
760 lakes
6 rives
3,000 miles of streams
100 miles of marine coastline
3 protected species of salmon
850,000 acres of forest lands
2,131 square miles
2,223,193 population
12th most populated county in the US
975 wetlands
What Makes King County so special?
It is home to one of the most vibrant cities in the world on the edge of the wilderness with farms, beaches, forests and cozy small towns.
Some of the most famous companies in the world were formed and headquartered in King County such as; Microsoft, Amazon, Starbucks, Nordstrom and Costco.
You can find an international airport, lighthouses, ferry boats, the Space Needle, rivers, lakes, beaches, gourmet restaurants, small batch roasted coffee houses, islands, micro-brew pubs, floating bridges, coliseums, the Seahaws, the Mariners, hiking trails, Mt Baker Snoqualmie National Forest, Ballard locks, University of Washington, casinos, resorts, wineries,  country clubs, marinas, malls, waterfalls, the Great Wheel, museums, theaters, arboretums, concert halls and so much more.
Owning a Home In King County
There are 30 cities and towns located in King County and each one offers something a little different.
Home prices are the highest in a small city called Medina.  It is a small city that is adjacent to Bellevue and borders Lake Washington.  It is just a short bridge drive to Seattle.
The second most expensive city is Mercer Island.  It is a desirable place to live as it is located a short bridge ride to both Seattle and Bellevue.  Many homes are on or near water.
Bellevue is the 3rd most expensive city and offers a unique combination of urban life and unique residential spaces.
Sammamish is the 4th most expensive city and is located on the Eastside of Lake Washington and is centered around Lake Sammamish.
Newcastle is the 5th most expensive city located on the Eastside of Lake Washington and South of Bellevue.
Kirkland is the 6th highest priced area.
Redmond (home of Microsoft) is the 7th highest priced.
Finally, Seattle, surprisingly is only the 8th highest priced city in King County. (according to NWMLS Infosparks 2/22/2020) 
Within Seattle are many prominent neighborhoods that each have their own price ranges.
West of Lake Washington the prices tend to decrease as you head North toward Snohomish County and South from Seattle and the closer you get to HWY 99 / Aurora Ave and away from water.
East of Lake Washington the prices tend to decrease as you head north and south of Bellevue and East of Lake Sammamish.
There are currently (2/22/2020) 3,111 homes for sale in King County.
KING COUNTY CITIES
---
---
Algona
Auburn
Beaux Arts Village
Bellevue
Black Diamond
Bothell
Burien
Carnation
Clyde Hill
Covington
Des Moines
Duvall
Enumclaw
Federal Way
Hunts Point
Issaquah
Kenmore
Kent
Kirkland
Lake Forest Park
Maple Valley
Medina
Mercer Island
Milton
Newcastle
Normandy Park
North Bend
Pacific
Redmond
Renton
Sammamish
SeaTac
Seattle
Shoreline
Skykomish
Snoqualmie
Tukwila
Woodinville
Yarrow Point
King County PARKS
---
Auburn Narrows Natural Area
Bassett Pond Natural Area
Big Bend and Landsburg Natural Areas
Big Finn Hill Park
Bingaman Pond Natural Area
Black Diamond Open Space
Boulevard Lane Park
Boxley Creek Site
Bridle Crest Trail Site
Bryn Mawr Park
Burke Gilman Trail Site
Camelot Park
Canyon Creek Natural Area
Carnation Marsh Natural Area
Cavanaugh Pond
Cecil Moses Memorial Park
Cedar Downs Site
Cedar Grove Road Natural Area
Cedar River to Lake
Sammamish Trail Site
Cedar River Trail Site
Chinook Bend Natural Area
Coalfield Park
Cold Creek Natural Area
Cottage Lake Park
Cougar Mountain Regional
Wildland Park
Cougar/Squak Corridor
Covington Natural Area
Danville-Georgetown
Dick Thurnau Memorial Park
Dockton Beach Park
Dockton Forest
Dockton Natural Area
Duthie Hill Park
Duvall Park
East Lake Sammamish Trail Site
East Plateau Trail Site
Ellis Creek Natural
Evans Creek Natural Area
Evans Crest Natural Area
Fall City
Fall City Natural Area
Fall City Park West
Five Mile Lake Park
Flaming Geyser Natural Area
Foothills Trail Site
Fred V. Habenicht Rotary Park
Gold Creek Park
Grand Ridge Park
Green River Natural Area
Green River Trail Site
Green To Cedar Rivers Trail Site
Griffin Creek Natural Area
Hatchery Natural Area
Horsehead Bend Natural Area
Hyde Lake Park
Inspiration Point Natural Area
Instebo Park
Island Center Forest
Issaquah Creek
Issaquah Preston Trail Site
Juanita Triangle Park
Juanita Woodlands Park
Kathryn C. Lewis
Kathryn Taylor Equestrian Park
Kentlake Athletic Fields
Kingsgate Park
Klahanie Trail Site
Lake Francis Park
Lake Geneva Park
Lake Joy Park
Lake Youngs Park
Lake Youngs Trail Site
Landsburg Kanaskat Trail Site
Landsburg Trailhead
Levdansky Park
Log Cabin Reach Natural Area
Lower Bear Creek Natural Area
Lower Newaukum Creek Natural Area
Manzanita Natural Area
Maple Valley Heights Park
Maplewood Heights Park
Maplewood Park
Marjorie R. Stanley Natural Area
Marymoor Park
Marymoor Bellevue Ballfield Complex
Maury Island Natural Area
Maury Island Marine Park
May Creek Park - County
May Valley Park
McGarvey Park Open Space
Meridian Jr. High School
Middle Bear Creek Natural Area
Middle Fork Snoqualmie Natural Area
Middle Issaquah Creek Natural  Area
Mirrormont Park
Mitchell Hill Connector Forest
Moss Lake Natural Area
Mouth Of Taylor Reach Natural  Area
Mullen Slough Natural Area
Neill Point Natural Area
North Green River Park
Northilla Beach Natural Area
North Meridian Park
Northshore Athletic Fields
North Shorewood Park
Novelty Hill Little League Fields
Paradise Lake Natural Area
Paradise Valley Natural Area
Park Orchard Park
Patterson Creek Natural Area
Peterson Lake Natural Area
Petrovitsky Park
Piner Point Natural Area
Pinnacle Peak Park
Pipeline Number 5 Trail Site
Preston Athletic Fields
Preston Mill
Preston Park
Preston Ridge Park
Preston Snoqualmie Trail Site
PSE Trail Site
Quigley Park
Raabs Lagoon Natural Area
Raging River Natural Area
Rattlesnake Mountain Scenic Area
Ravenhill Open Space
Ravensdale Park
Ravensdale Retreat Natural Area
Redmond Ridge Park
Redmond Ridge Trail Site
Redmond Watershed Addition Park
Redmond Watershed Trail Site
Renton Park
Ring Hill Forest
Sammamish River Trail Site
Shinglemill Creek Natural Area
Sierra Heights Park
Sixty Acres Park
Skyway Park
Snoqualmie Valley Trail Site
Soaring Eagle Regional Park
Soos Creek 140th Open Space
Soos Creek Park and Trail
Soos Creek To Lake Youngs Trail Site
South County Ballfields
Spring Lake/Lake Desire Park
Squak Mt/Tiger Mt Corridor
Steve Cox Memorial Park
Stillwater Natural Area
Sugarloaf Mountain Forest
Tanner Landing Park
Taylor Mountain Forest
Three Forks Natural Area
Tollgate Farm
Tolt River - John MacDonald Park
Tolt Pipeline Trail Site
Upper Bear Creek Natural Area
West Sammamish Trail Site
Wetland 14 Natural Area
White Center Heights Park
White Center Pond Natural Area
Whitney Bridge Park
Weyerhaeuser King County
Aquatic Center
County of King
---
King COUNTY SCHOOL DISTRICTS
---
King County Shopping
---
King County RESTaurants
---
King County Happy Hour
---
KIng County Travel Guide
---
KIng County Lodging
---
King County Real Estate Statistics
---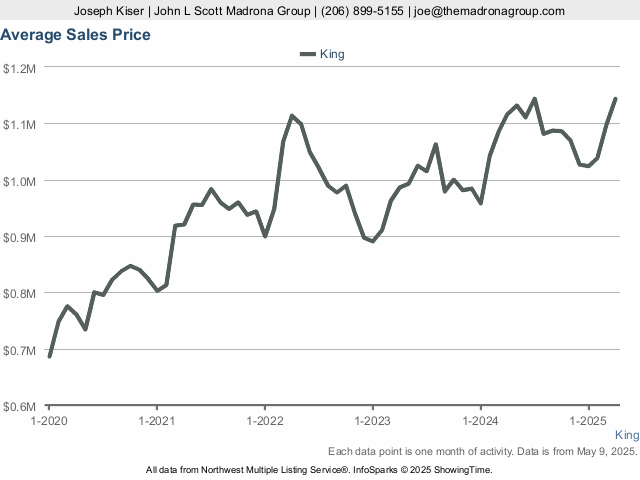 ---
AVERAGE PERCENTAGE OF LIST PRICE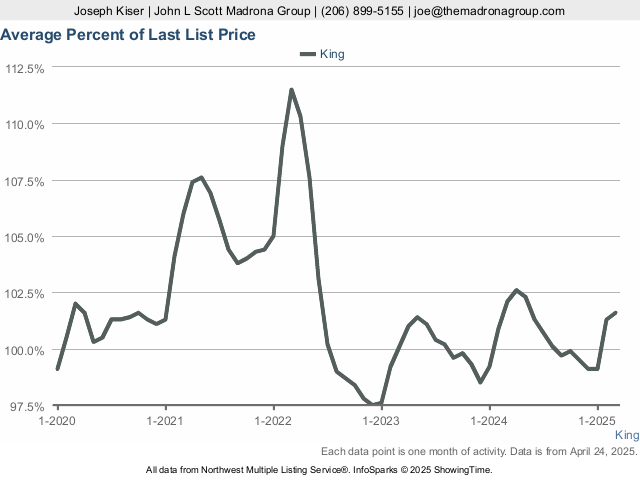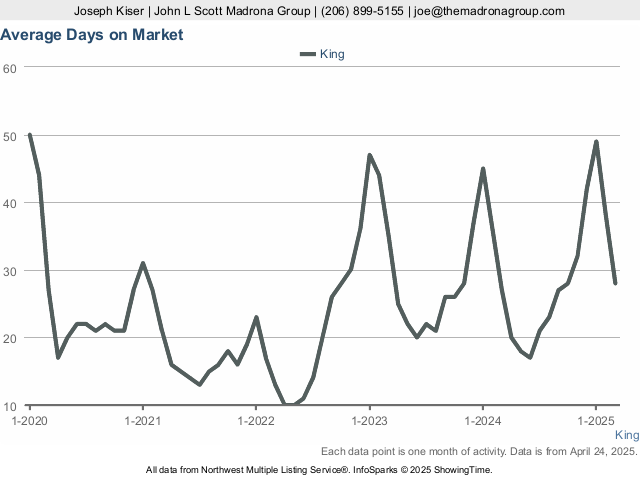 ---
MONTHS SUPPLY OF INVENTORY