BELLEVUE REAL ESTATE
Schools, Parks, Neighborhoods, Homes For Sale, Restaurants, Statistics and More
About The City Of BELLEVUE WA
---
---
Bellevue ranked #4 of "Best Places to Live."

Money Magazine
Bellevue is a fast growing city complete with all the amenities today's savvy urban homeowner wants, with a small town feel. And that is just one of the reasons we  💚 Bellevue Real Estate.

Jump to Bellevue Homes For Sale.
What Makes Bellevue so special?
Bellevue has some of the highest rated schools in the country and receives a score of 8/10 by Great Schools, #3 of out of 228 Cities with the Best Public Schools in America according to Niche, and 5 stars on School Digger.
Across Lake Washington from Seattle yet worlds apart is the Eastside jewel of Bellevue. Renowned for its easy access to tech giants like Microsoft, Bellevue has created its own vibe and distinct character!
Bellevue offers the unique combination of having all the amenities of a big city with the feel and open spaces of a small town.
Bellevue boasts some of the best that living in the Greater Puget Sound Region has to offer. Less than an hour from Skiing and scenic hiking trails yet just a few minutes away from world class dining and shopping makes this desirable city a great place to call home. You are also welcomed by Luxury waterfront homes and condos as well as established neighborhoods offering terrific community appeal.
What Do People Love About the City of Bellevue, WA?
High quality of life: Bellevue is known for its high quality of life, with excellent schools, a low crime rate, and a strong sense of community.

Vibrant downtown: Bellevue has a thriving downtown area with a variety of shops, restaurants, and entertainment options, making it a great place for both work and play.

Natural beauty: The city is surrounded by natural beauty, with numerous parks, lakes, and hiking trails, providing residents with plenty of opportunities to enjoy the great outdoors.

Strong economy: Bellevue has a strong and growing economy, with a thriving tech industry and a diverse range of businesses, making it an attractive place to live and work.

Cultural diversity: Bellevue is a culturally diverse city, with a mix of international communities, offering residents a rich and diverse cultural experience.

Convenient location: Bellevue is located just across Lake Washington from Seattle, providing residents with easy access to the city while still offering a peaceful suburban setting.
Overall, people love living in Bellevue for its high quality of life, vibrant downtown, natural beauty, strong economy, cultural diversity, and convenient location.
Enjoy Our Greater Eastside Spotlight Video
BELLEVUE REAL ESTATE LISTING SUMMARY
TABLE OF CONTENTS
---
---
---
BelRed
Bridle Trails
Cougar Mountain / Lakemont
Crossroads
Downtown
Eastgate & Factoria
Lake Hills
Newport
Northeast Bellevue
Northwest Bellevue
Somerset
West Bellevue
West Lake Sammamish
Wilburton
Woodridge
Bellevue School District
(425) 456-4000
8/10 Great School Rating
CONNECT WITH US
About Bellevue Real Estate... or From Seattle to Snohomish County
425-452-6885
Bellevue offers residents almost 100 parks.
Bellevue offers much in the way of green space.
BELLEUVE RESTAURANTS, HAPPY HOUR & SHOPPING
---
BELLEVUE FACTS
---
County:  King County
3rd Largest City in Washington
Population:  141,400
Zip Codes:

98004, 98005, 98006, 98007, 98008, 98009
School District: Bellevue
Distance From Seattle:  10 miles
Distance From Bellevue:  0 miles
Area Code: 425
THINGS TO DO IN BELLEVUE
Bellevue Botanical Garden
53-acre sanctuary with year-round events
Lake Sammamish
Recreation site for sports & hiking
Marymoor Park
Climbing wall, large dog area & concerts
Cougar Mountain Regional Wildland Park
Spacious nature park for trails & views
Downtown Park
Waterfall, garden & benches on 21 acres
Burke-Gilman Trail
Cycling, running, and park
KidsQuest Children's Museum
Modern place with hands-on activities
Lake Sammamish State Park
Boat launch, picnic areas & kayak rental
Saint Edward State Park
Historic lakeshore area open for day use
Luther Burbank Park
Lakefront stretch with beach & wetlands
Mercer Slough Nature Park
Wetlands habitat with trails & canoeing
Squak Mountain
Wooded mountain with signposted trails
Poo Poo Point Trailhead
Hiking, mountain, hang gliding, paragliding, and outdoor recreation
Meydenbauer Bay Park
Swimming beach with play & picnic areas
Cougar Mountain Zoo
Big cats, exotic birds & sculpture
Microsoft Visitor Center
Visitor center
Bridle Trails State Park
Woodsy trails & horse-show grounds
Cougar Mountain
Mountain, cougar, hiking, tiger, and outdoor recreation
Chism Beach Park
Sandy swimming area & a playground
Newcastle Beach Park
Green space for picnicking & swimming
Idylwood Park
Beach, playground & canoe rentals
Wilburton Hill Park
Woodland park for sports & picnicking
Enatai Beach Park
Park for picnics, swimming & kayaking
Squak Mountain State Park Natural Area
Scenic day-use park with hiking trails
Kelsey Creek Park
Play equipment & a farm with animals
Grass Lawn Park
Leafy green space for sports & play
Garden D'lights
Garden known for winter illuminations
Bellevue Square
Shopping
East Lake Sammamish Trail
Lake, running, and cycling
Soaring Eagle Regional Park
Forested park with trails & wildlife
Pine Lake Park
Lakeside park with boat launch & fishing
Evans Creek Preserve
Trails & wildlife on scenic terrain
Beaver Lake
Lake and fishing
K1 Speed - Indoor Go Karts
Indoor go-kart racing for all ages
Bellevue Badminton Club
Badminton club
Sixty Acres Park
25 sports fields & a picnic shelter
AVERAGE SALES PRICE BY MONTH OVER 3 YEARS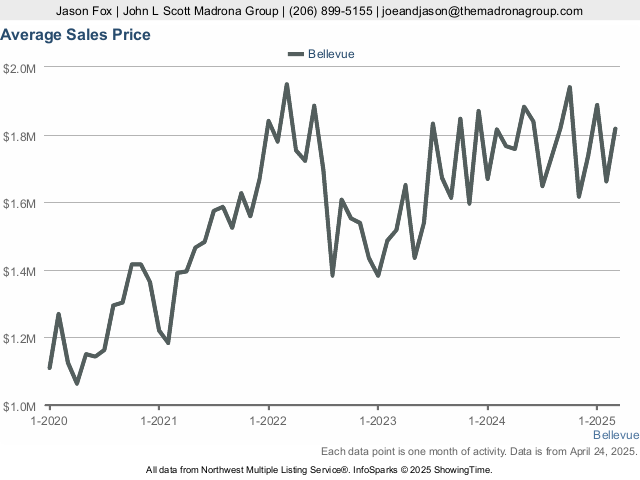 NUMBER OF HOMES FOR SALE BY MONTH OVER 3 YEARS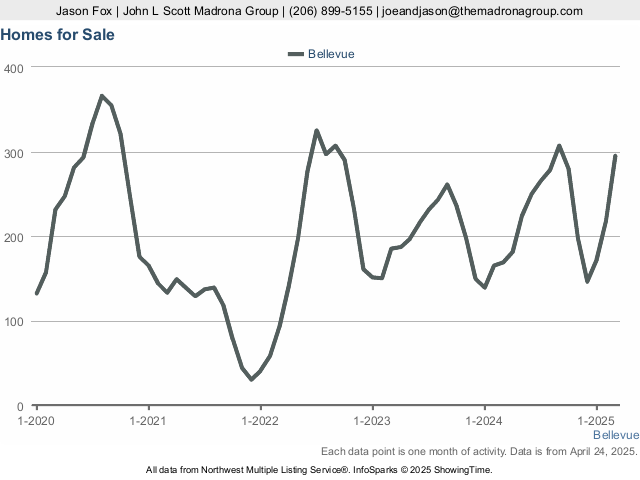 AVERAGE DAYS ON MARKET BY MONTH OVER 3 YEARS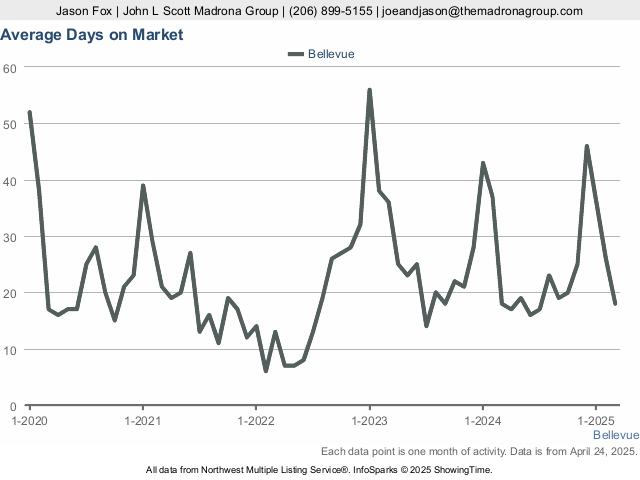 AVERAGE PRICE PER SQUARE FOOT BY MONTH OVER 3 YEARS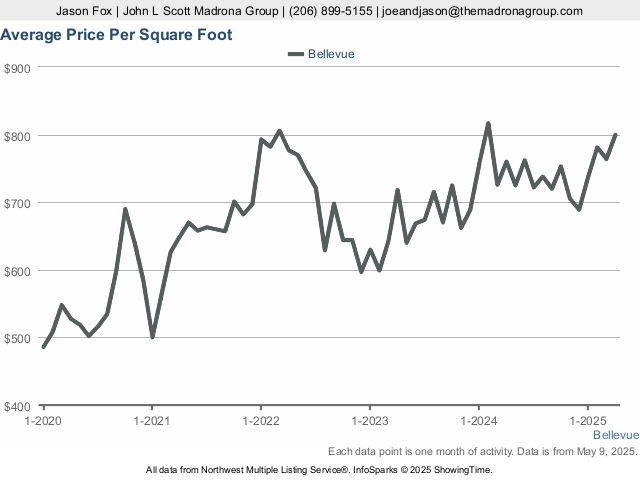 NUMBER OF HOMES SOLD BY MONTH OVER 3 YEARS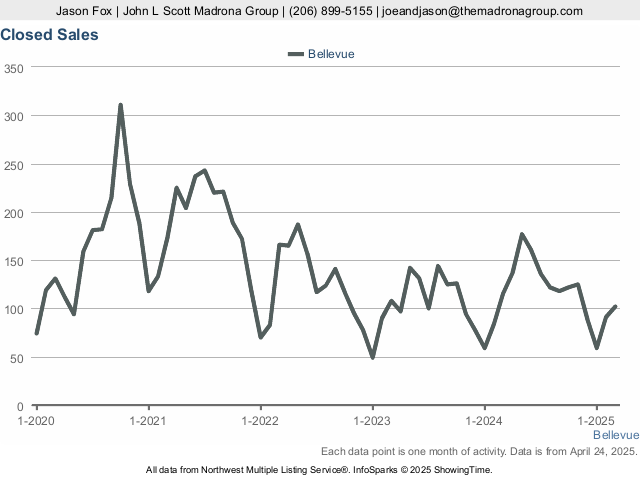 AVERAGE PERCENT OF LIST PRICE TO SOLD PRICE