SNOHOMISH COUNTY HOUSING MARKET FORECAST
Home Prices, Market Trends, Graphs Video and Infographics
Snohomish County Housing Market

Normalization and Resiliency in September 2022
This article will be about the current and future state of the Snohomish County housing market.  Refer to the table of contents to skip to your interest.
We start with our 60 second video discussing the 3 key indicators and how they affect the market. Then an infographic and a highlight of what stood out the most this month and some quick stats we think are important.
We deep dive into what story the statistics are telling us.  Next we will hear from the 24th most influential person in real estate, Lennox Scott and what he sees happing in the Seattle market.  We will do a short breakdown on Sales Activity, Days on Market, Price, Interest Rates, Timing and Job and Population Growth.  A complete list of the MLS Infospark stats for Seattle housing market trends.
Lastly, don't forget to check out the newest Snohomish County homes for sale.
SNOHOMISH COUNTY HOUSING MARKET AT A GLANCE
---
Average Sales Price DECREASED by $10K ($759K)
Pending Sales INCREASED to 1,423
New Listings DECREASED to 1,519
Homes For Sale DECREASED to 2,218
% Sold Price/List Price DECREASED to 98.8%
Interest Rates INCREASED to a Solid 6.02%
Home Inventory DECREASED to 1.4 Months of Supply
---
Gary Keller founder of Keller Williams real estate calls this the "most confusing real estate market" he has ever seen. We saw inventory drop and average sales price drop with it. Homes are selling and buyers are buying (but they are taking their time and asking for a discount)
The Snohomish County Housing Market Forecast 2022 For SEPTEMBER
---
---
Every month we gather all the facts, data and statistics about the Snohomish County Housing Market and share them with you.  We will discuss the 3 major factors in determining the strength of the market.
Inventory
Percentage of Homes That Go Pending In First 30 Days
Interest Rates
The data tells a story about the current state of our local residential real estate market.
The Story These Facts Tell Me Is...
Gary Keller, founder of Keller Williams real estate, said today's market is filled with 'mixed signals' that can make it hard to strategize. "I would say this is the most confusing market I've ever seen in my entire 40-plus years in our industry. It's confusing, and it's only confusing because you have mixed signals".
Like I shared last month as real estate professionals this is a perfect market.  Listings are selling at a swift pace for close to market price.  Buyers are able to pick their home and make offers with little to no competition. We call this Real Life – Real Estate™
Meaning that rather than trying to buy just to take advantage of an artificially low interest rate or to sell because of an artificially high selling price people are buying and selling due to real life events.
This is a good thing.  It gives us time to slow down and weigh the pros and cons of each real estate decision.
Sellers that are Market Ready Day One are still seeing their homes sell swiftly and for top dollar.
Buyers are still seeing historically solid interest rates and can often tour 6-10 listings that match their search criteria and offer list price or below with an inspection with little or no competition.
The real winner is the person that needs to sell and buy.  It is always OK to buy/sell within same market timing.  In this market most sellers are sitting on big equity and can take their time to get their home ready for sale.  After we sell we have a much higher chance of buying our move up or move down without having to arrange for temporary housing.  We are even seeing contingent sales start to get accepted again.
We are still hearing dooms day stories about the crash and while anything is possible I have found that the best way to really understand how the market is responding is to look at the data and match it up with the eye test.
We tend to look heaviest at the 3 key indicators to determine the health of the market.
The percentage of new listings that go pending, or under contract, in the first 3o days.  We call this the "Sales Intensity Scale". During the pandemic we literally had to make up a new adjective to label what was happening as we were seeing over 90% of new listings go pending in the first 30 days.  We called that an Ultra and Uber Frenzy Market.  We are currently sitting at 49.4% of new listings.  We call that a STRONG Market.  A median or average type market would be around 30%.
Interest rates have increased with the news that the Fed intends to continue increasing the Federal Funds Rate.  We are currently at around 6.02% for a 30 year fixed conventional loan.  Pre-Covid we were around 3.75%, then the stimulus packages hit and the Fed lowered the rates to near 0.  This gave the banks a rare opportunity to offer rates in the 2's and if you got in on that... Congratulations.  Historically speaking interest rates in the low 6's are considered a good rate.
BONUS TIP:  With some listings it is possible to negotiate for Seller's concessions.  Generally these would go towards your closing costs.  Now might be a good time to negotiate seller concessions towards buying down your interest rate a percentage.
Inventory levels, surprisingly fell a bit  last month. This last year we hit all time record lows for the amount of homes for sale.  When there are not many homes to buy and many people looking to buy homes that is simple Supply and Demand.  Not enough supply for all that demand.
What we saw happen was 10-20 people bidding on the same house. People buying houses they were allowed to tour for 15 minutes.  People waiving all their contingencies and bidding the price of the home up by $50-200K.  That was an abnormal market.
With 1.4 months of supply we are again able to tour multiple houses, often times not bidding against anyone or maybe 1 or 2 other offers.  We are starting to see home inspections become the norm again.
If you are thinking of buying a home in Snohomish County right now and are worried that the interest rates have increased it is important to contrast that to what you gain.
Recently Fannie Mae a government-sponsored lender forecasted that the rate on a 30-year fixed mortgage will fall to an average 4.5% in 2023.
"Marry the house (while they are easier to get) and date the rate until they come back down to the 4's". 
We did see the average sales price drop a bit in August.
As we continue to see "premium pricing" fade away through the end of the season it leaves us feeling like we are loosing value. At this time most economists are predicting that prices level off, but will not loose appreciation.  Anywhere from a 1-8% appreciation gain for 2022 are what the experts are predicting.
We are on a similar trajectory as we were on in 2018 where after an extended period with extremely low inventory and low interest rates, the interest rates increased and the sales intensity decreased.  In 2018 this was most noticeable starting in June and going through the winter.
We should stay in a Strong to Surging market meaning that 40-60% of homes sell in the first 30 days through the winter.
Snohomish County rent remains high and it appears demand has as well as we are hearing stories of applicants calling as soon as the rental hits the market and being 1 of 20 callers.  We have even heard stories about people have to win rental bidding wars.
According to ApartmentList.com Snohomish County's median 3-bedroom rent for an apartment is $2,706 month.  Which equates to approximately a $500K home (view Snohomish County 3 Bedroom homes for sale in the $450 -550K price range) with 20% down on a 30 year fixed 6.02% interest rate loan.
As we find ourselves in recession-like situations the best hedge for inflation is real estate.  As we keep seeing public figures like Bill Gates and Jeff Bezos buy real estate at an extraordinary rate.
As we have been talking about for a while now the Seattle area has the 2nd highest percentage of tech workers in the country.  Tech jobs bring people in from all over the world and tend to be come with an above average salary.  So what do tons of new people with above average salaries need when they get to Seattle, a place to live.
When you add the large number of high income tech workers with the historically solid interest rates and the desire for people to move into larger homes that accommodate all the at home activities that people have gotten used to along with crazy high rents and a desire to counter inflation with real estate we should steer clear of any kind of bubble bursting.
Despite WA being fully open we will continue to offer a full suite of Virtual Real Estate Services.
HOUSING MARKET RESILIENCE CONTINUES

The resilience of the Snohomish County housing market is clear as a steady cadence of homes going under contract continues. Though Sales Activity Intensity™ in Snohomish County is no longer at uber-frenzy, market activity has adjusted and settled to very strong in the month of August.

Overall there is strong and very strong Sales Activity Intensity™ for Snohomish County homes priced up to $1 million. 86 percent of sales activity takes place in this price range. Above $1 million, there is healthy Sales Activity Intensity™. J Lennox Scott
---
CEO of John L. Scott Real Estate
---
Snohomish County Real Estate GRAPHS AND Data
With 1.4 months of supply if no other homes were listed in the next 42 days we would run out of houses to buy.
If you are looking for homes over 1.5 mil you are seeing more inventory with 2.2 months supply.
1,135 homes were sold in Snohomish County last month. That is up 12 units from the previous month, down 513 units from last year, and down 382 from 5 years ago.
As you can see from the table above anything below 5 months is considered low.  Low inventory means higher demand.  Higher demand drives the price up.
In Snohomish County homes in the 350K-1mil price range are the most commonly listed and sold.
DAYS ON MARKET
---
---
49.4% of homes are selling in less than 30 days in Snohomish County. A normal market is closer to 30%.
Houses in the $350-500K price range are selling 68.6% of the time in the first 30 days.
Because there are less homes for sale and there are still many buyers trying to buy… the homes that do list are usually selling very fast.
PRICE
---
AVERAGE SALES PRICE: $759,432
AVERAGE SALES PRICE SINGLE FAMILY RESIDENTIAL: $809,567
AVERAGE SALES PRICE CONDOS: $541,695
We have already seen where a low inventory should drive up prices. The average sale price for Snohomish County homes is $759,432. In comparison 5 years ago the average sales price was $449,085 that is a 59% increase in equity, or a 11.8% increase annually.
The average home is selling for .6% lower than it is listed as.
---
As you can see from the John L. Scott 6 phases to a yearly house cycle chart we have come to an end of  the "busy season".
If you're a buyer you will want to position yourself to create a buyer advantage when competing with other buyers and walk in confidence when making an offer. We can consult with you to be up-to-date with current market intensity and pricing, get pre-approved or fully underwritten through a lender, and receive email/text notification of newly listed properties.
In today's instant-response market, it's key to ensure you're ready to act in the Snohomish County housing market when the timing is right and make sure you are Buyer Ready Day One.
Sellers should be Market Ready Day One.
JOB AND POPULATION GROWTH
---
WHILE WE ARE NOT SURE HOW THE EMPLOYMENT NUMBERS WILL END UP HERE IS THE CURRENT UNEMPLOYMENT SITUATION
CURRENT UNEMPLOYMENT RATES
---
WA Employment Security Department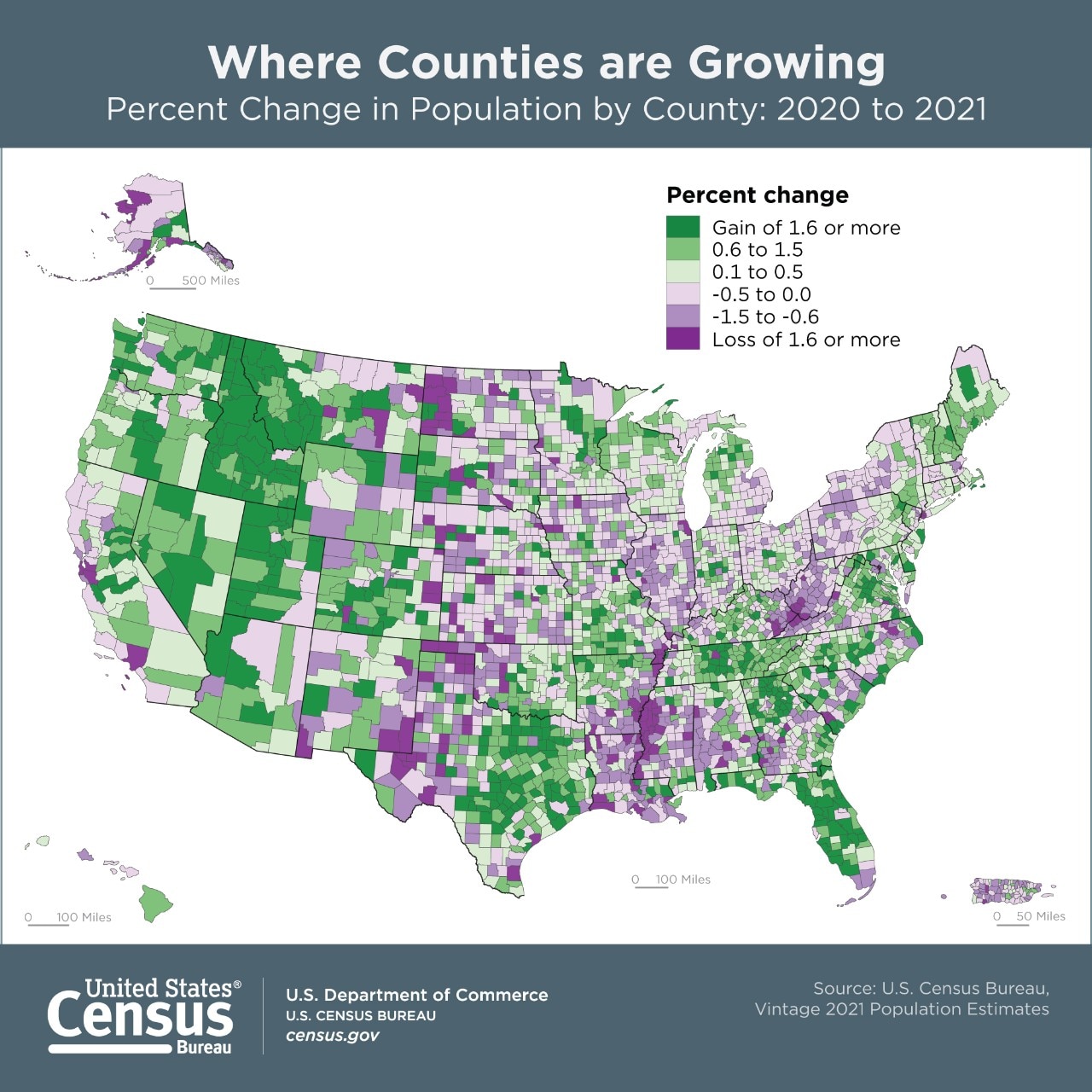 [Source: U.S. Census Bureau]
Snohomish County added a few thousand to their population in 2021.
Snohomish County Housing Market Stats
---
STATS PROVIDED BY: INFOSPARK
$759,432

was the average sold price for listings in Snohomish County.
1,519 new listings went on the market this month.
2,218 homes were for sale during the month.
1,423 homes went pending in Snohomish County.
1,135 homes sold this month
1.4 months of inventory available in Snohomish County.
21 was the average days on market for a home to sell in Snohomish County.
99.4% was the average listing price vs. sales price percentage
$386 was the average price per square foot in Snohomish County.

$861,955,174

was the total closed sales volume for Snohomish County.
6.02% was the interest rate
49.4% of homes sold in the first 30 days in Snohomish County.
Snohomish County Housing Market Summary
---
Snohomish County WA Real Estate saw 1,519 new listings, 2,218 homes were for sale, while 1,135 homes sold in August in Snohomish County.
The average days on market increased to 21 days, the percentage of sale price to listing price decreased to 99.4%, and the average sales price decreased. The percentage of homes that sold in the first 30 days is 49.4%.
After 2 years of solid Frenzy to Ultra Frenzy status we are now in a Strong Status.
Housing market predictions, we should continue to see a strong to surging market through the Winter of 2022.  We will start to see the normal seasonal slowdown of listings and buyers will eat into the leftover inventory over the fall and winter until the season starts back up in February.
Now seems to be an amazing time to sell your home as we are still seeing low inventory and prices are holding fairly steady.
If you are considering a move up, a move down, or just want to sell your home… Months of inventory is still at a shortage level.  Homes are selling at a rapid pace, the Interest Rates are still historically low.
The job market is staying strong and while some are migrating closer to the city, population growth remains strong as we get closer to the light rail making stops in Snohomish County.