GREATER SEATTLE REAL ESTATE MARKET
HOMES FOR SALE, REAL ESTATE STATS, SCHOOLS, PARK INFO & VIDEO
ABOUT THE CITY OF Seattle, WA
---
THE EMERALD CITY
It is a nickname that is a little outdated as we await the new new one we can still appreciate the idea. An emerald is distinguished, deep green in color and not the most common precious stone. That sums up Seattle pretty well. And that is one of the many reasons we 💚 Seattle area Real Estate.
---
What Makes Seattle Real Estate Special?
We think it is the number and variety of activities that one could choose from with a short drive. Stay in the city and enjoy all the activities you would expect of the 20th largest city in the US.
Or hop in your car and find beaches, ski resorts, mountain hiking trails, river rapids and fishing holes.  Perhaps it is the neighborhoods of houseboats as seen on "Sleepless In Seattle".
The "Emerald City" as it is nicknamed, because of how much green vegetation in the city, has a reputation of being rainy.  However, it is only the #44 ranked rainiest city.  The upside to the rain we get is some of the most beautiful summers that you can imagine.
Read About: Top 9 Reasons People Are Moving To Seattle
You can plan a trip to one of the states small batch coffee roasters , Beer breweries, and wineries.  Visit the world famous Pike Place Market and get locally grown organic fruits and vegetables or any variety of fresh seafood.  Seattlites can also enjoy one of the many local and ethnic eateries, or enjoy a night out on the town.
Seattle real estate has over 100 unique neighborhoods and each one lives a little differently.  Whether you would like to live in a college town like atmosphere in the University District, or you crave a little more eclectic flair like in Fremont, you can find your place in Seattle.
Prices for homes are all across the board as Seattle has a multitude of communities and neighborhoods as unique and diverse as the city itself.
In downtown Seattle real estate you will find an array of different size and style condominiums for sale, many of which with gorgeous views of the Puget Sound and Mountains.
In Ballard real estate you might run into more townhomes, and a ton of new construction.
In Wallingford real estate you will find find yourself touring early century craftsman style homes.
Seattle is the largest city in Washington with a unique diversity that makes it a joy to live in.  
---
seattle neighborhood map
---
---
LIST OF 78 SEATTLE NEIGHBORHOODS
---
This is the list of all the neighborhoods that were mapped out for Seattle real estate.  Each one also has a link to view all homes for sale in that neighborhood.

Admiral

Alki

Abor Heights

Atlantic

Ballard

Beacon Hill

Belltown

Bitter Lake

Blue Ridge

Brighton

Broadmoor

Broadview

Bryant

Capitol Hill

Cedar Park

Central District

Columbia City
Crown Hill

Denny Blaine

Downtown Seattle

Eastlake

First Hill

Fremont

Georgetown

Green Lake

Greenwood

Haller Lake

Hawthorne Hills

High Point

Highland Park

Industrial District

Interbay

Internation District

Laurelhurst

Leschi

Lower Queen Anne

Loyal Heights

Madison Park

Madison Valley

Madrona

Magnolia

Maple Leaf

Matthews Beach

Meadowbrook

Montlake

Mount Baker

North Beach

Licton Springs

North Delridge

Northgate

Olympic Hills

Olympic Manor
Phinney Ridge

Pinehurst

Pioneer Square

Portage Bay

Queen Anne

Rainier Beach
Ravenna

Riverview

Roosevelt

Westwood / Roxhill

Sand Point

Seward Park

South Delridge

South Lake Union

South Park

Sunset Hill

University District

Victory Heights

View Ridge

Wallingford

Wedgwood

West Seattle

Westlake

Whittier Heights

Windermere

Fauntleroy
ABOUT Seattle SCHOOLS
---
Seattle Public Schools is the largest public school district in the state of Washington. The school district serves the entire city of Seattle. As of 2020, 113 schools are operated by the district, which serves over 50,000 students. The fantastic Seattle school district is another factor in the making Seattle real estate so desirable.
Seattle School District  |  206-252-0000  |  Website  |   9/10 Great School Rating
---
SEATTLE ALTERNATIVE SCHOOLS
BRIDGES
Cascade Parent Partnership
Interagency
Middle College
Nova
Original Van Asselt
Seattle World School
Skills Center
South Lake
SEATTLE HIGH SCHOOLS
Ballard
Center School
Cleveland STEM
Franklin
Garfield
Nathan Hale
Ingraham
Interagency
Lincoln
Middle College
Nova
Rainier Beach
Roosevelt
Chief Sealth
Seattle World School
Skills Center
South Lake
West Seattle
SEATTLE MIDDLE SCHOOLS
Jane Addams
Denny
Robert Eagle Staff
Eckstein
Hamilton
Aki Kurose
Madison
McClure
Meany
Mercer
Seattle World School
Washington
Whitman
SEATTLE K-8 SCHOOLS
Catharine Blaine
Louisa Boren STEM
Broadview-Thomson
Cascade Parent Partnership
Licton Springs
Orca
Pathfinder
Salmon Bay
South Shore
TOPS
Hazel Wolf
SEATTLE ELEMENTARY SCHOOLS
Adams
Alki
Arbor Heights
Bagley
Beacon Hill
Bryant
Cascadia
Cedar Park
Coe
Concord
B.F. Day
Dearborn Park
Decatur
Dunlap
Emerson
Fairmount Park
Gatewood
Gatzert
Genesee Hill
Graham Hill
Green Lake
Greenwood
Hawthorne
John Hay
Highland Park
Kimball
Martin Luther King Jr.
Lafayette
Laurelhurst
Lawton
Leschi
Lowell
Loyal Heights
Wing Luke
Madrona
Magnolia
Maple
Thurgood Marshall
McDonald
McGilvra
Montlake
John Muir
North Beach
Northgate
Olympic Hills
Olympic View
Queen Anne
Rainier View
Rising Star
John Rogers
Roxhill
Sacajawea
Sand Point
Sanislo
John Stanford
Stevens
Thornton Creek
View Ridge
Viewlands
Wedgwood
West Seattle
West Woodland
Whittier
seattle PARKS
---
206-684-4075  |  Seattle Parks
With over 100 parks, Seattle offers much in the way of green space.
Seattle Parks and Recreation (SPR) manages a 6,414-acre park system of over 485 parks and extensive natural areas. SPR provides athletic fields, tennis courts, play areas, specialty gardens, and more than 25 miles of boulevards and 120 miles of trails. The system comprises about 12% of the city's land area. SPR also manages many facilities, including 27 community centers, eight indoor swimming pools, two outdoor (summer) swimming pools, four environmental education centers, two small craft centers, four golf courses, an outdoor stadium, and much more.
Space Needle, Pike Place Market, T Mobile Park (Mariners), Lumen Field (Seahawks & Sounders), Climate Pledge Arena (Kraken & Storm), Pier 57 (Great Wheel), Gasworks Park, Chihuly Gardens, Seattle Art Museum, The Arboretum, Ballard Locks, Golden Gardens, Museum of Pop Culture, Pioneer Square, Discovery Park, Lake Union, Fremont Troll, Green Lake, Discovery Park, Lake Washington...
seattle Lodging
---
seattle SPORTS
---
FAMILY FUN
---
Seattle Shopping
---
seattle Happy Hour
---
Arts & Culture
---
seattle RESTaurants
---
seattle Museums
---
seattle Events
---
Seattle Real Estate Statistics
---
How expensive is a house in Seattle?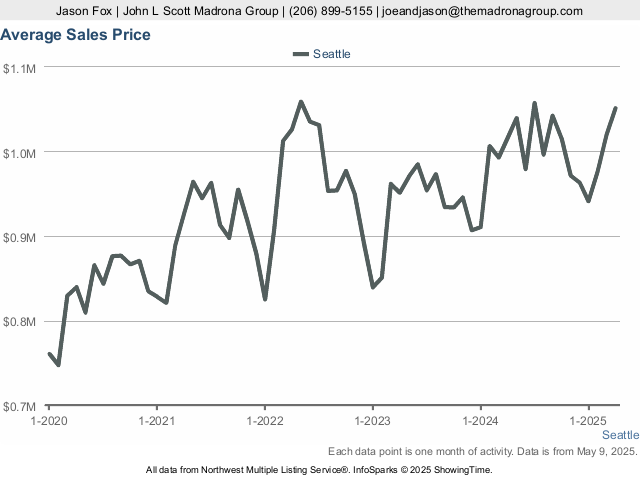 ---
Can you buy a house for list price in Seattle?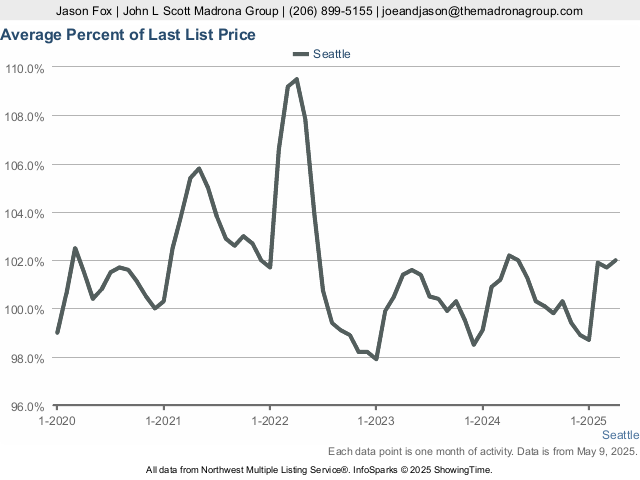 How quickly do homes sell in Seattle?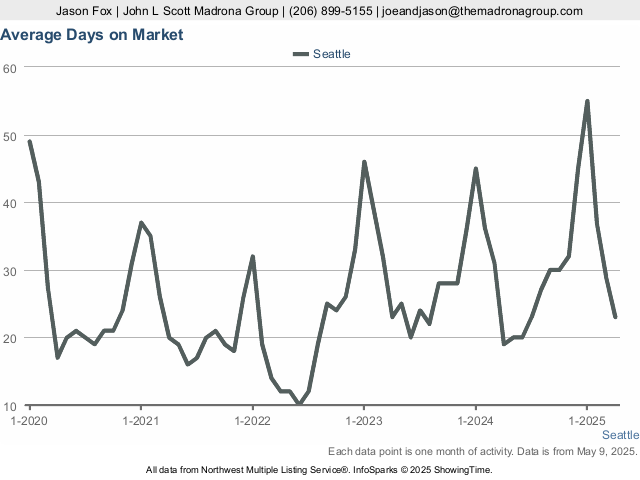 ---
How much housing inventory is there in Seattle?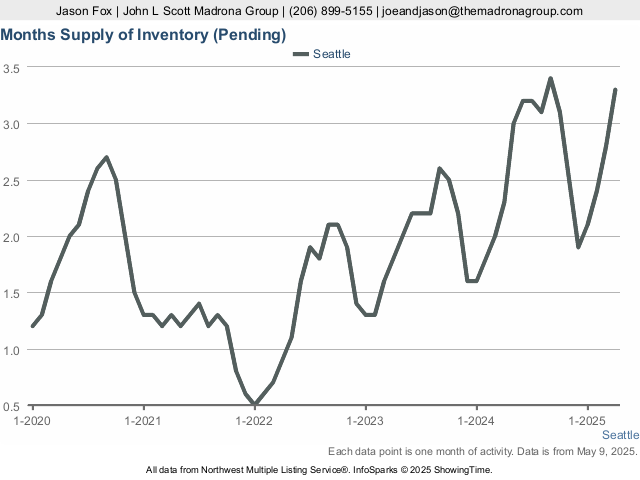 CONNECT WITH THE TEAM
Find out how we help you find the right house for the right price in Seattle
---
JOHN L. SCOTT BALLARD
The Madrona Group
1448 NW Market St
Seattle, WA 98107
(206) 899-5155
www.TheMadronaGroup.com