SEATTLE HOUSING MARKET FORECAST
Home Prices, Interest Rates, Real Estate Statistics, Video and Charts
---
3 KEY INDICATORS
Seattle Housing Market
SALES ACTIVITY INTENSITY:
INTEREST RATE:
INVENTORY LEVEL:
---
THE BIG DEAL We went from 39.9% to 61.5% of new listings go pending in the first 30 days, an increase of 21.6%, in one month. Homes are selling quickly.
The Seattle Housing Market Analysis For MARCH2023 | HOMES ARE SELLING FAST
---
This article will be about the current and future state of the Seattle area housing market.  Refer to the table of contents to skip to your interest.
We started with the Seattle housing market at a glance and the 3 key indicators, then the Seattle market video discussing the 3 key indicators and how they affect the market.
We deep dive into what story the statistics are telling us.  We will hear from the 29th most influential person in real estate, Lennox Scott and what he sees happing in the real estate market.  We look at Sales Activity, Market Intensity, Price, Interest Rates, Timing and Job and Population Growth.  A complete list of the MLS Infospark stats for Seattle housing market trends.
Lastly, don't forget to check out the newest Seattle homes for sale.
---
2023 HOUSING FORECAST FOR KING COUNTY
---
---
The listings that make it to the market are selling fast, bringing back the multiple offer's scenario for some properties. Homeowners with a high percentage of built-up equity, and life events are moving the market.
Today's buyers have increased expectations that homes are move-in ready on day one, a perfect opportunity for sellers to be Market Ready, Day One™.
Resources like MarketReady+ and Seller Listing Launch® can set you apart when attracting buyers to your property.
As Daylight Savings Time begins in March, the market will continue its surge into the spring market.
We continue to stay on a similar trajectory as we were on in 2018 where after an extended period with extremely low inventory and low interest rates, the interest rates increased and the sales intensity decreased.
In 2018 this was most noticeable starting in June and going through the winter as activity started to pick up in March.  We would then go on to set sales records for the next 2-3 years.
In February of 2018 we got 845 new listings and this February we got 810 new listings.  In March of 2018 we shot up to 1,268 new listings.  I don't anticipate that big of an uptick in 2023 primarily because of interest rates.
"Federal Reserve Chairman Jerome Powell on Tuesday cautioned that interest rates are likely to head higher than central bank policymakers had expected." (CNBC 3/7/23)
Until we get a influx of listings or the interest rates become unmanageable... We do not have enough houses to sell.  We are currently showing 1.2 months supply of inventory in Seattle and that is a Shortage on the verge of an extreme shortage.
We are starting to see bidding wars on listings that are Market Ready.  No where near as bad as the last few years.  Because of this the average sales price for a Seattle home increased again for the first time in over 3 months.
Sellers need to be Market Ready Day One to take advantage of the low supply and ensure their homes sell swiftly and for top dollar.
Buyers need to readjust to the new normal and get themselves Buyer Ready Day One.  Not every listing is a multi-bid scenario but we need to be ready when they are.
It is always OK to buy/sell within same market timing.  In this market most sellers are sitting on big equity and can take their time to get their home ready for sale.  After we sell we have a much higher chance of buying our move up or move down without having to arrange for temporary housing.
The dooms day stories about a potential crash continue to circulate and there is no doubt that we have seen a severe dip in the economy.  I have found that the best way to really understand how the real estate market is responding is to look at the data and match it up with the eye test.
We tend to look heaviest at the 3 key indicators to determine the health of the market.
The percentage of new listings that go pending, or under contract, in the first 3o days.  We call this the "Sales Intensity Scale". During the pandemic we literally had to make up a new adjective to label what was happening as we were seeing over 90% of new listings go pending in the first 30 days.  We called that an Ultra and Uber Frenzy Market.  We are currently sitting at 61.5% of new listings.  We call that a SURGING Market.  A median or average type market would be around 30%.
Inventory levels continue to decrease and are at what we consider a Shortage Inventory Level.  This last year we hit all time record lows for the amount of homes for sale.  When there are not many homes to buy and many people looking to buy homes that is simple Supply and Demand.  Not enough supply for all that demand.
Interest rates play a huge role in the demand.  If people can not get financing, or financing that match their needs, that will limit the demand.  Right now interest rates are under 7%.  Data shows that we will tolerate interest rates under 7% and continue buying homes.
BONUS TIP:  With some listings it is possible to negotiate for Seller's concessions.  Look for homes that have been on the market longer than 7-10 days.  Generally these concessions would go towards your closing costs.  Now might be a good time to negotiate seller concessions towards buying down your interest rate.  Either a permanent or temporary 2/1 buydown.
With 1.2 months of supply we are again seeing some bidding wars, waiving of contingencies and ultra quick sales.
If you are thinking of buying a home in Seattle right now and are worried that the interest rates have increased it is important to contrast that to what you gain.
Many experts are predicting that we should start to see rates drop again in the 2nd half of the year.
"Marry the house (while they are easier to get) and date the rate until they come back down to the 4's". 
We should stay in a Strong to Surging market meaning that 35 - 65% of homes sell in the first 30 days through the summer.
Seattle rent remains high and according to Zillow, "Rent growth should remain strong in the short term as high home prices keep many would-be first-time buyers in the rental market. Over the next 12 months, rents are expected to grow more than inflation, stocks and home values."
According to Rent.com Seattle's average 2 bedroom rent for an apartment is $3,280 month.  Which equates to approximately a $600,000 home (view Seattle homes for sale in the $500K - 700K price range) with 20% down on a 30 year fixed 6.93% bought down to 4.93% with a temporary 2-1 buydown interest rate loan.
As we find ourselves in recession-like situations the best hedge for inflation is real estate.  
As we have been talking about for a while now Seattle has the 2nd highest percentage of tech workers in the country. "Seattle Overtakes Boston as Third-Richest US City by Household Income" (Bloomberg)
Despite WA being fully open we will continue to offer a full suite of Virtual Real Estate Services.
HOMES ARESELLING, FAST!

The Seattle market is back to Surge / Frenzy Sales Activity Intensity™ of homes going under contract for new resale listings. Unsold inventory is virtually sold-out in the more affordable, mid-price and into the upper end price points. Although on a monthly basis, fewer homes are coming on the market than previous years; as we head into spring, there is a seasonal increase in the number of new monthly listings. Today's buyers will need to be Buyer Ready, Day One™, to ensure they get the home of their choice.

The Luxury Home Market is experiencing elevated buyer traffic, as the start of the Luxury Season begins in earnest.J Lennox Scott
---
CEO of John L. Scott Real Estate
---
Seattle Real Estate GRAPHS AND Data
---
With 1.3 months of supply if no other homes were listed in the next 42 days we would run out of houses to buy.
There were 810 new listings in February.
If you are looking for homes 2 million plus you are seeing more inventory than $500k-$1million.
As you can see from the table above anything below 5 months of inventory is considered low.  Low inventory means higher demand.  Higher demand drives the price up.
594 homes were sold in Seattle last month. That is up 206 from the previous month, down 176 from last year, and down 28 from 5 years ago.
In the Seattle housing market homes in the 500k-1m+ price range typically sell the fastest.
MARKET INTENSITY
---
---
61.5% of homes are selling in less than 30 days in the Seattle housing market. A median market is usually closer to 30%.
Houses in the 0-350K price range are selling 92.9% of the time in the first 30 days.
Even as there are more homes for sale, there are still many buyers trying to buy… the homes that do list are still selling fairly quickly.
PRICE
---
AVERAGE SALE PRICE: $851,700
SINGLE FAMILY RESIDENTIAL:  $915,428
CONDOS:  $601,898
We have already seen where a low inventory should drive up prices. The average sale price for Seattle homes is $851,700. In comparison 5 years ago the average sales price was $793,177 an 7% increase in equity.
Listings are selling at 99.7% of their list price on average.
---
JOB AND POPULATION GROWTH
---
WHILE WE ARE NOT SURE HOW THE EMPLOYMENT NUMBERS WILL END UP HERE IS THE CURRENT UNEMPLOYMENT SITUATION
CURRENT UNEMPLOYMENT RATES
---
WA Employment Security Department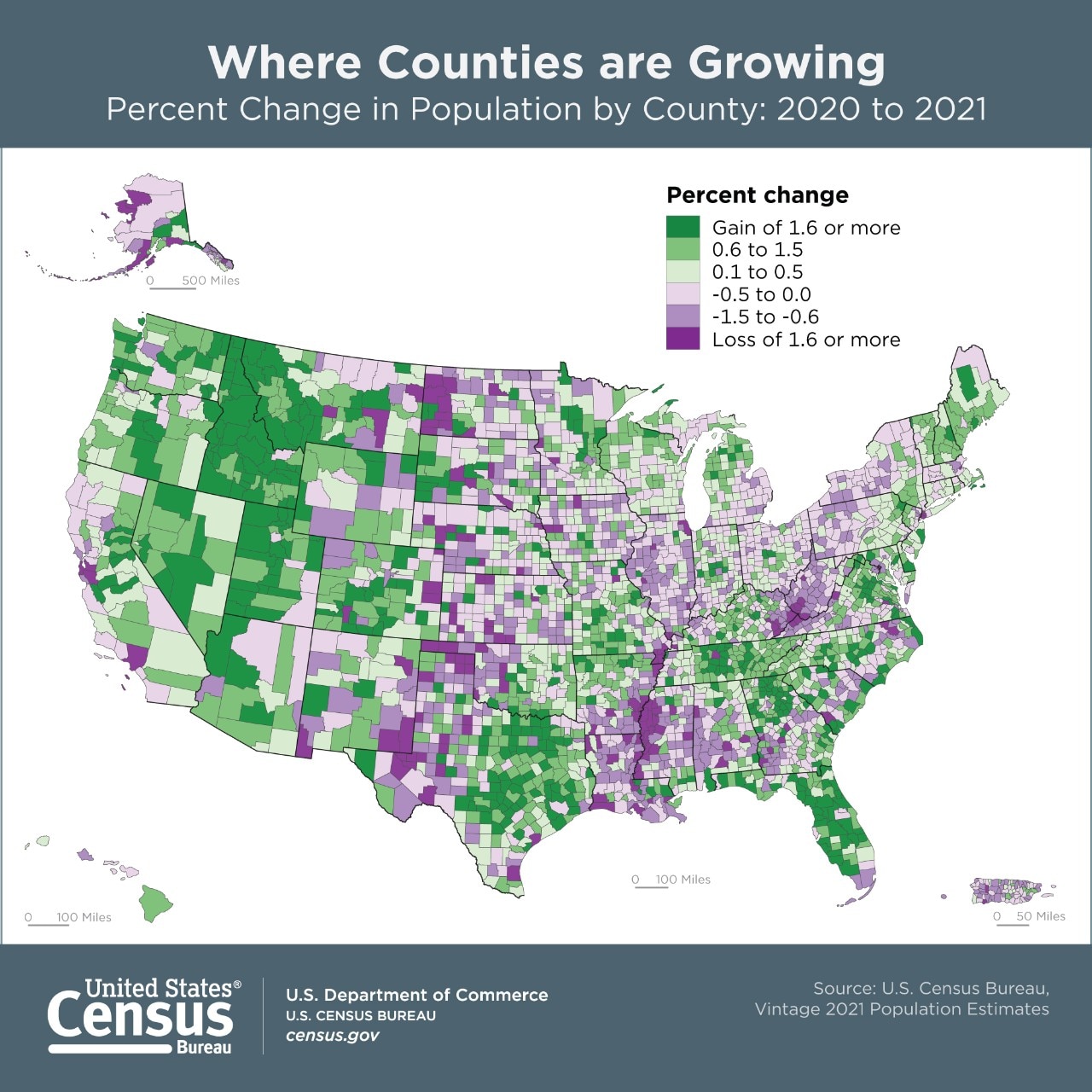 [Source: U.S. Census Bureau]
"
"King County lost population last year for the first time in almost 50 years", according to the Seattle Times.
Seattle Market Stats
---
STATS PROVIDED BY: INFOSPARK
$851,700

was the average sold price for listings in Seattle.

810

new listings went on the market this month.
1,110 homes were for sale during the month.
711 homes went pending in Seattle.
594 homes sold this month
1.2 months of inventory available in Seattle
40 was the average days on market for a home to sell in Seattle
99.7% was the average listing price vs. sales price percentage
$545 was the average price per square foot in Seattle

$505,909,850

was the total closed sales volume for Seattle
6.94% was the interest rate
61.5% of homes sold in the first 30 days in Seattle
SEATTLE HOUSING MARKET Summary
---
The Seattle Housing Market saw 810 new listings, 1,110 homes were for sale, while 594 homes sold in February in Seattle.
The average days on market decreased to 40 days, the percentage of sale price to listing price increased to 99.7%, and the average sales price increased. The percentage of homes that sold in the first 30 days is 61.5% indicating a Surging Market. Inventory is at 1.2 months of supply indicating a Shortage of Supply.
We are launching into the next buying cycle and with interest rates leveling off and the lack of inventory we are seeing the market pick up.  Expect a surging market through the Summer of 2023.
Now is a great time to sell your home as we are still seeing low inventory and historically high prices.
If you are considering a move up, a move down, or just want to sell your home… Months of inventory is still at below average.  Homes are selling at a rapid pace, the Interest Rates are still at average rates.
The Seattle job market has remained strong powered primarily by the tech sector.