Mountlake Terrace REAL ESTATE
HOMES FOR SALE, SCHOOLS, MARKET STATS, Map
About Mountlake Terrace Real Estate
---
---
Mountlake Terrace is a friendly community that is centrally located for easy access. That is just one of the many reasons we 💚 Mountlake Terrace real estate.

---
What Makes Mountlake Terrace so special?
Mountlake Terrace is one of the most affordable suburbs of Seattle with lower home pricing and lower property tax.  A quiet full service city with all comforts that the pacific northwest has to offer.
Mountlake Terrace Is Just Minutes From Seattle, Bellevue, Everett, or the Puget Sound
Mountlake Terrace is located just 14 miles north of Seattle and just 5 miles east of the Puget Sound.  There are many different communities to live in with different styles of house to choose from.
The city has miles of trails to enjoy including a the huge Terrace Creek Park with multiple play fields and indoor community swimming pool.  Take the family for a swim or feed the ducks at Lake Ballinger.
Prices for homes can start in the low to mid $500K's and reach in the $1m to range with the median house price around $727K.
Mountlake Terrace Listing Summary

---
---
Mountlake terrace HOMES FOR SALE
---
Map Of Mountlake Terrace
---
---
Mountlake Terrace neighborhoods
East Terrace
Gateway
Lake Ballinger
Melody Hill
North Terrace
Town Center
Mountlake Terrace SCHOOLS
Edmonds School District
(425) 431-7000
Mountlake Terrace PARKS
425-776-1811
Mountlake Terrace parks system boasts over 269 acres of recreational attractions including parks, play fields, disc golf, fishing, and public open space.
CITY OF Mountlake Terrace
Mountlake Terrace RESTaurants
Mountlake Terrace Happy Hour
Mountlake Terrace Real Estate Statistics
AVERAGE SALES PRICE IN MOUNTLAKE TERRACE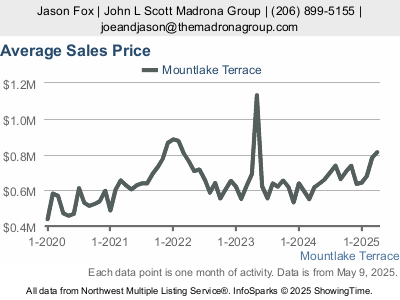 AVERAGE DAYS ON MARKET IN MOUNTLAKE TERRACE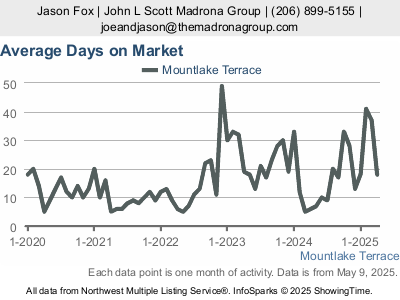 MOUNTLAKE TERRACE HOUSING INVENTORY
AVERAGE PERCENT OF SOLD PRICE TO LIST PRICE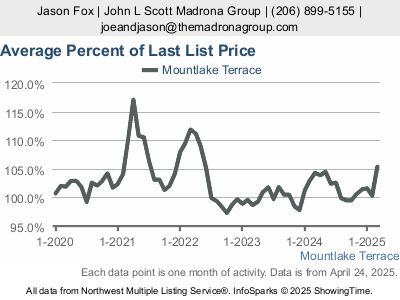 LETS CHAT
About Mountlake Terrace real estate or... From Seattle to Snohomish County or Wherever You Are.