Mill Creek REAL ESTATE GUIDE
MILL CREEK HOMES FOR SALE, SCHOOLS, VIDEO, MARKET STATS & MORE
ABOUt the city of mill creek wa
---
Mill Creek Earns The Coveted 10/10 School District RatingGreat Schools
Mill Creek offers large comfortable communities and great amenities. This is just one of the many reasons we 💚 Mill Creek real estate.
Jump to Mill Creek Homes For Sale.
What Makes Mill Creek so special?
Once considered a 'Bedroom Community', today, Mill Creek features a wonderful Town Center complete with high end retail and the Central Market.
Designed around a world class country club and miles of trails that wind all through the planned developments, tennis courts, swim club, and down to the famous Town Center.
Tucked among stately old growth trees and winding streets in Snohomish County, many of the established neighborhoods offer beautiful Craftsman Style home that are elegant and roomy. Quiet and private, many communities in Mill Creek are highly sought after by those looking for that comfortable 'Can't Wait to Get Home' property.
Prices for homes can start in the mid $400K's and will easily go to the mid &600K's and &700K's range due in part to the quiet and private.
---
Mill Creek Listing Summary

---
---
Mill Creek HOMES FOR SALE
---
Mill Creek Housing Divisions
---
RESIDENTIAL
Aspen
Chatham Park
Cottonwood
Cypress 
Douglas Fir
Evergreen 
Fairway 
Fairway Fountains
Heatherstone
Holly
Huckleberry
Juniper
Laurel
Magnolia 
Red Cedar
Spring Tree 
Sunrise
Sun Rose
Sweetwater Ranch
Swordfern
Vine Maple
Wildflower Park
Willow
Woodfern
Winslow
TOWNHOUSES
Amberleigh 
Belvedere Place 
Emerald Heights
Fairwood Greens
Pembrook
The Pointe
CONDOS
Country Club Estates
Copper Tree
Country Place
Fairway Village I&II
Lakewood
Mill Lane
Mill Run I&II 
Miller's Village I&II
St. Moritz
Stratford Greens
The Masters
Trillium Court
Mill Creek SCHOOLS
Mill Creek School District
(425) 385-6800
10/10 Great School Rating
MIll Creek PARKS
425-551-7254
Mill Creek is a community committed to quality living. This commitment has created the city's park and recreation system that offers a comprehensive network of community and neighborhood parks, natural areas and open spaces, pathways and trails, recreational facilities, and year-round recreational activities.
CITY OF Mill Creek
Mill Creek Shopping
Mill Creek RESTaurants
Mill Creek Happy Hour
Mill Creek Real Estate Statistics
MILL CREEK AVERAGE HOME SALE PRICE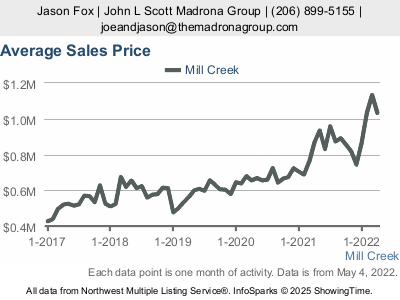 AVERAGE DAYS ON MARKET IN MILL CREEK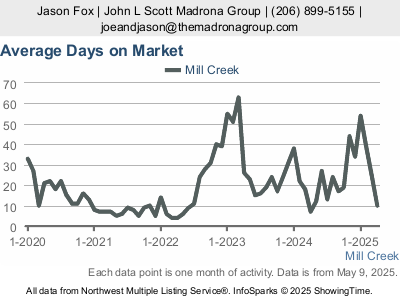 MONTHS SUPPLY OF MILL CREEK INVENTORY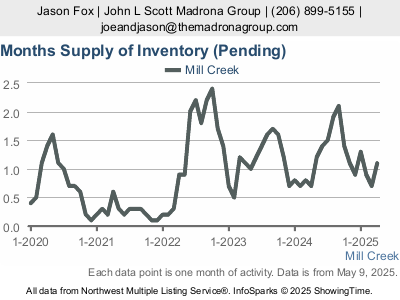 AVERAGE PERCENT LIST PRICE TO SALES PRICE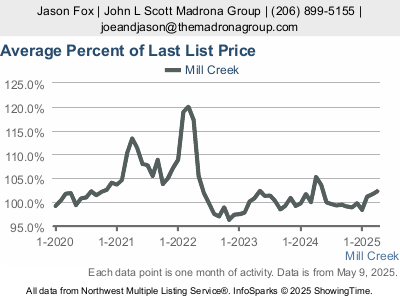 CONNECT WITH US
About Mill Creek Real Estate or... From Seattle to Snohomish County or Wherever You Are.