Harbour Pointe Real Estate
Homes For Sale, Real Estate Stats, School & Park Info, Video
ABOUT HARBOUR POINTE NEIGHBORHOOD in Mukilteo
"MASTER PLANNED COMMUNITY"
If you think there is a place for everything and everything has its place you will love the Master-Planned community of Harbour Pointe. Just one of the many reasons we 💚 Harbour Pointe Real Estate.
Jump to Harbour Pointe Homes For Sale.
What Makes Harbour Pointe so special?
To me it is the views, not every house in Harbour Pointe has a view, but every house is pretty close to the water.
Harbour Pointe is known for being planned around a the Harbour Pointe Golf Club.  One of the best maintained and trickiest public golf courses in the state with a signature golf hole #11 that offers a panoramic view of the sound.
There are 4 schools in Harbour Pointe; Columbia Elementary, Endeavor Elementary,  Harbour Pointe Middle School and Kamiak High School.  All are highly rated in the esteemed Mukilteo School District.
Along with a golf course and 4 schools you will also find multiple housing developments and Harbour Village along the Harbour Pointe Blvd loop.  There are 2 restaurants in Harbour Village, Thai Rhama and Umami Asian Cuisine.  There is also a barber shop and a park.  The Harbour Pointe Blvd to Harbour Reach Drive loop is approximately 2 miles and has wide sidewalks that are great for walking or jogging.  On the Mukilteo Speedway side of the community you will find Grocery and hardware stores, multiple eateries, hospital, YMCA and much more.
Some of the developments include the newer built Crown Park and Harbour Pointe Village.  Whidbey Lane, a more mature development with lots that include larger backyards. One Clubhouse Lane, which winds around Harbour Pointe's golf course, has an average square footage of 2,900.  Chennault Beach, Seawatch at Harbour Pointe, the Villas at Harbour Pointe, Sundance, Waterton, Discovery Crest, Waterford Park, Fairview, the Grove, Martha's Vineyard, Nantucket, Tatoosh, Harbour Wood, Whidbey Lane, Kamiak, Front 9 and more.
Harbour Pointe Real Estate is very desirable in an area loaded with convenience and fabulous views.
Close to HWY 405, Boeing, the Mukilteo ferry and I-5.
Area Vibes Gives Mukilteo A Score of 73 or Extremely Livable.
Prices for condos can start in the low $200K's up to $500K. Houses can start in the low $400K's and go up to the Million dollar range with its fair share of waterfront and high-end luxury homes.
Enjoy Our Mukilteo Community Spotlight Video
---
---
Enjoy Our Harbour Pointe Crown Park VideoCast
---
---
INSTANT HOME VALUATION
Get an instant estimation of your home's current value.
GET AN ESTIMATE
HARBOUR POINTE HOMES FOR SALE
---
MAP OF HARBOUR POINTE MUKILTEO WA
---
BEST RESTAURANTS IN MUKILTEO
---
1. Grouchy Chef 
(425) 493-9754
4433 Russell Rd Ste 113
Mukilteo, WA 98275
12. Sage and Cinder 
(425) 374-8355
613 5th st
Mukilteo, WA 98275
3. Hani Hani Poke Ramen Grill 
(425) 512-0188
9999 Harbour Pl
Mukilteo, WA 98275
4. Ivar's Mukilteo Landing 
(425) 742-6180
710 Front St
Mukilteo, WA 98275
5. Diamond Knot Brewery and Ale House 
(425) 512-8080
621 Front St
Mukilteo, WA 98275
6. Blu Burgers and Brew 
(425) 493-6900
9999 Harbour Pl
Mukilteo, WA 98275
7. Budapest Bistro
(425) 513-9846
12926 Mukilteo Spdwy
Mukilteo, WA 98275
8. John's Grill
(425) 347-1062
649 5th St
Mukilteo, WA 98275
9. Thai Waterside Cuisine
(425) 355-7393
415 Lincoln Ave
Mukilteo, WA 98275
10. Mukilteo's Speedway Cafe
(425) 347-2000
11707 Mukilteo Spdwy
Mukilteo, WA 98275
HARBOUR POINTE sCHOOLS
Mukilteo School District - www.mukilteoschools.org
(425) 356-1274
9/10 Great School Rating
Harbour Pointe Schools
Columbia Elementary
Endeavor Elementary
Harbour Pointe Middle
Kamiak High
HARBOUR POINTE GOLF CLUB
(425) 355-6060
Harbour Pointe Golf Club provides guests with a challenging and varied golf experience by offering two distinctly unique nines. Driving range and The Pointe restaurant.
CITY OF Mukilteo
MUKILTEO PARKS
425-263-8000
City of Mukilteo has approximately 620 acres of parks, open space and trails that includes 11 parks and trails.  Our parks showcase the historic Mukilteo Lighthouse constructed in the 1950s on a filled tideland.
HARBOUR POINTE REAL ESTATE MARKET STATISTICS
AVERAGE SALES PRICE FOR A HOME IN HARBOUR POINTE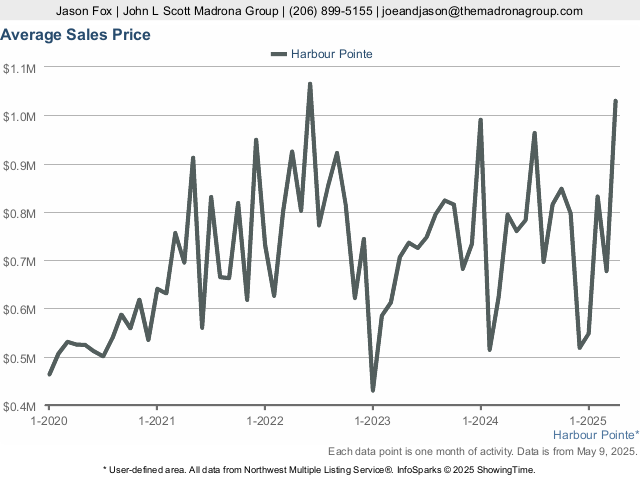 HARBOUR POINTE AVERAGE DAYS ON MARKET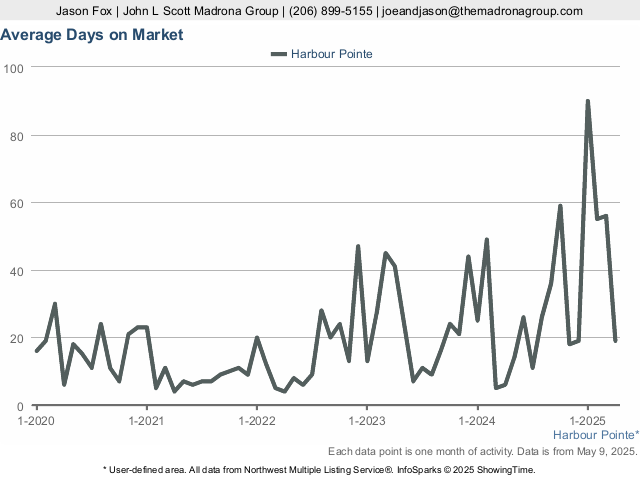 MONTHS SUPPLY OF INVENTORY IN HARBOUR POINTE
CLOSED SALES THIS MONTH IN HARBOUR POINTE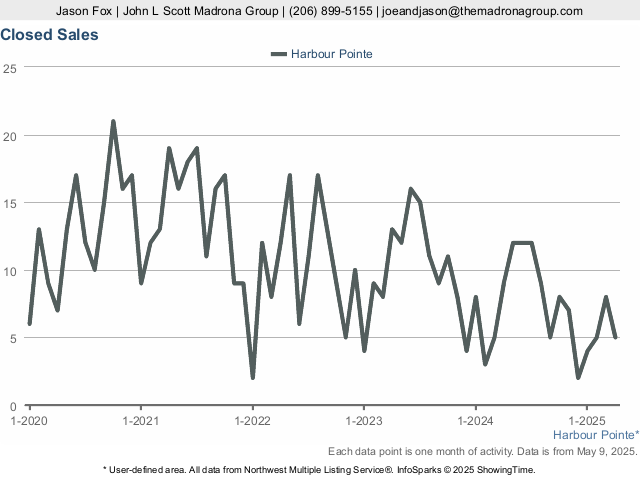 CONNECT WITH US
About Harbour Pointe Real Estate or... from Seattle to Snohomish County or wherever you are.