BALLARD REAL ESTATE
HOMES FOR SALE, Real Estate Stats, Schools, Park Info & Video
ABOUT THE BALLARD WA NEIGHBORHOOD
"

A Blueprint for EveryTown USA.

"
It is more than just a slogan but it is a feeling you get when you visit the thriving and energetic Seattle neighborhood and one of the many reasons we 💚 Ballard Real Estate.
Jump to Homes For Sale in Ballard.
What Makes Ballard so special?
To me it is the perfect combination of city and residence.  Ballard really has something to offer just about everyone.
No matter where you live you are just minutes from some of Seattle's best scenes.  Gas works Park, Golden Gardens Park, Shilshole Bay Marina, and The Ballard Locks.
You can visit old Ballard or Ballard Ave Landmark District as it is known officially an area know to have more breweries than any other neighborhood in the Pacific Northwest!
Access to both fresh water, Lake Union and salt water, Shilshole Bay.
You are sure to be able to find the right place for a night out with the amazing selection of restaurants, bars and pubs.
Shop in one of the many boutique shops and markets.  Make sure you visit the Ballard Farmers Market a unique year-round market that sells produce exclusively from Washington farms.
Soak in all Ballards rich maritime history by visiting the Nordic Museum or spend an afternoon at Fisherman's terminal, ya sure ya betcha.
Ballard Real Estate is very desirable as it is one of Seattle's trendiest neighborhoods.
Minutes from Downtown Seattle Ballard neighbors Shilshole bay on the West, the Crown Hill neighborhood on the North, the neighborhoods of Greenwood, Fremont and Phinney Ridge on the East, and the Lake Washington Ship Canal on the South.
Prices for homes can start in the low $600K's and reach well into the $5 million range. The Median Sales Price being about $885k. Condos sell from the low $300K's up to $2 mill.
Thinking that you want to move to the city but are not interested in being Downtown?  Ballard real estate may be exactly what you are looking for.
Enjoy Our Ballard Community Spotlight Video
Ballard Listings Summary
---
INSTANT HOME VALUATION
Get an instant estimation of your home's current value.
GET AN ESTIMATE
BEST RESTAURANTS IN BALLARD
---
1.The Walrus and the Carpenter
2. Copine
3. PorkChop & co
4. Sawyer
5. San Fermo
6. Un Bien
7. Bitteroot BBQ
8. Bastille Cafe
9. Ballard Pizza Company
10. Gracia
11.  Ray's Cafe
12. Red Mill Totem House
BALLARD sCHOOLS
Seattle School District
206-252-0000
https://www.seattleschools.org/
A larger number of schools in this district are rated above average in school quality.
Salmon Bay Elementary
Loyal Heights Elementary
Whittier Elementary
West Woodland Elementary
North Beach Elementary
Salmon Bay K-8
Whitman Middle
Ballard High School
CITY OF SEATTLE
BALLARD RESTAURANTS
BALLARD Happy Hour
Ballard Shopping
BALLARD Lodging
BALLARD PARKS
Golden Gardens Park
8498 Seaview Pl NW
Salmon Bay Park
2001 NW Canoe Pl
Ballard Corners Park
1702 NW 62nd St
Ballard Commons Park
5701 22nd Ave NW
Ballard Playground
2644 NW 60th St
Kirke Park
7028 9th Ave NW
Sunset Hill Park
7531 34th Ave NW
Gilman Playground
923 NW 54th St
Baker Park on Crown Hill
8347 14th Ave NW
Gemenskap Park
14th Ave NW (between NW 59th and, NW 61st St
Webster Park
3025 NW 68th St
Bergen Place
5420 22nd Ave NW
Loyal Heights Playfield
2101 NW 77th St
Thyme Patch Park
2853 NW 58th St
Marvin's Garden
5400 Ballard Ave NW
Northwest 60th St. Viewpoint
6001 Seaview Ave NW
Greenwood Triangle
304 NW 55th St
Golden Gardens Off Leash Area
8498 Seaview Pl NW
28th Ave. NW Street End Park
5301 28th Ave NW
HOUSING MARKET STATISTICS
AVERAGE SALES PRICE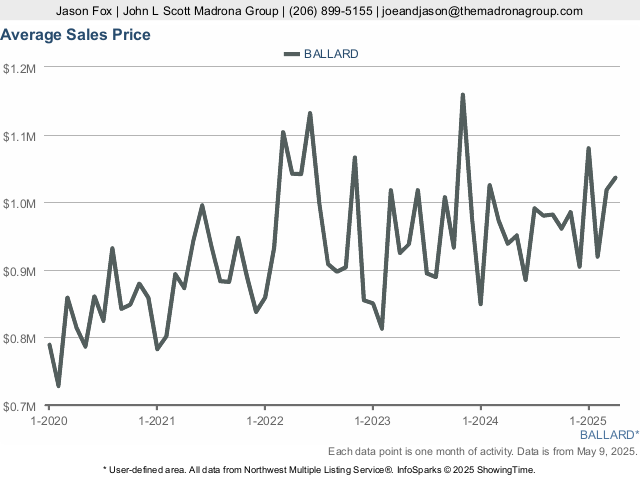 AVERAGE DAYS ON MARKET
MONTHS SUPPLY OF INVENTORY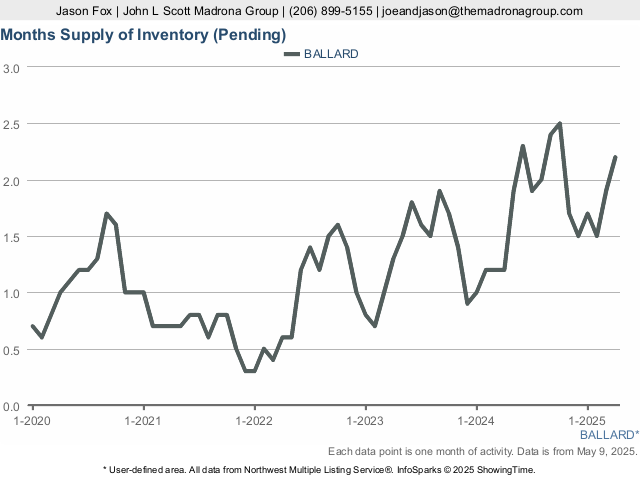 CLOSED SALES